Workshops
THIS YEAR   
Atlanta Collage Society 2019 Workshops:
Collage Jewelry: An ACS Class in PINmanship at SEFAA
Please join us for a creative, fun afternoon making wearable art! Lance Carlson will lead us in making 3D collages with "stuff" or "heavy" stock paper or other collected items. Some of the collages may be suitable for "wearing" (as a pin).
All mixed-media materials will be supplied. Just bring your sense of humor and glamour — plus an entry fee of $10.
Register below or you may pay at the door.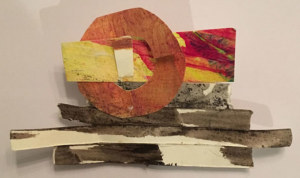 Class Date: Saturday, March 30, 2019 from 1:00 – 4:00PM
Where: Southeast Fiber Arts Alliance, 3420 W. Hospital Ave, Suite 103, Chamblee GA 30341
NOTE: For best GPS directions, use 3400 W. Hospital in your GPS, turn into development, and drive to end of road.
Registration:  PINmanship
PAST YEARS
Ashley Schick, September 2017
Cathryn Miles, April 2016
"Childhood Memories"
Steve Aimone, November 2013
"Expressive Drawing & Painting: Line & Mark As Subject"
Chery Baird, May 2013
Eydi Lampasona, August 2012
Cecil Touchon, October 2011